Kitchen and bathroom remodeling and renovation
involve almost all aspects of the trades.
From design, pluming, electrical, tile installation, and even modification to load bearing walls it can get quite complicated, but with decades of experience under our belt you can rest assured that the kitchen and bathroom renovation job will get done right no matter the size or complexity.
Kitchen Renovations Ottawa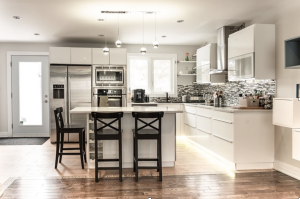 At Diamondale Construction, we specialize in creating innovative kitchen spaces that combine functionality and aesthetic appeal, and offer services for kitchen transformation projects. Diamondale Construction kitchen renovations has earned itself an esteemed reputation through years of impeccable craftsmanship and superior customer service, becoming the go-to provider in Ottawa for top-class kitchen remodeling services. Our team of talented designers and seasoned contractors work closely with clients to bring every element of their vision to life. From conception to completion, our kitchen renovation services combine innovative design solutions and top-quality materials for kitchens that reflect individual styles while increasing overall home values. Committed to providing superior results on time and within budget, our Ottawa-based company takes great pleasure in surpassing customer expectations by making kitchen dreams become a reality.
Bathroom Renovations Ottawa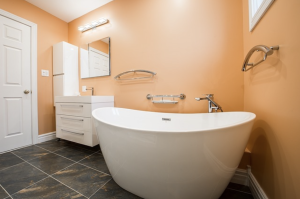 We are among top companies known for creating luxurious yet practical bathrooms. Experienced in all aspects of bathroom remodeling services, our bathroom renovation company has become one of the premier choices in Ottawa and nearby regions for exceptional bathroom remodeling solutions. Our company takes great pride in establishing itself as a reputable name by offering our high quality services at reasonable rates to homeowners throughout Ottawa and its environs. From updating fixtures and installing new cabinets to redesigning layouts and adding contemporary amenities, our bathroom renovation company ensures each project receives careful consideration and top-quality craftsmanship. Customer satisfaction is of utmost importance at Diamondale Construction; we aim to deliver exceptional results that not only add visual appeal but also increase functionality and value of any bathroom remodel in Ottawa. When searching for expert bathroom renovation services in this region, look no further! Diamondale Construction bathroom renovations should be your number-one choice!
Proper planning and choosing the right materials for your project are key factors in any renovation, but they are even more critical when it comes to kitchens and bathrooms remodeling. From start to finish we can help design your new kitchen or bathroom, choose proper materials for your project, and plan out the logistics of the renovation ensuring minimal disruption to your family while work is under way.
Free estimate and initial consultation.
Kitchen cabinetry design.
Cabinetry and countertop installation.
Custom shower design and installation.